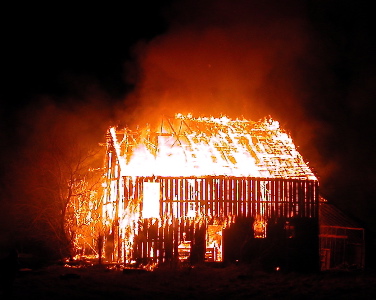 A few weeks ago, we decided to burn an old granary on our homesite. It was falling down and we needed to remove all of the old buildings before we can finish our occupancy permits anyway. So we lit it up. The only problem was that the wind shifted and caught the old barn on fire. Granted, the barn needed to go, too, and we were mostly done cleaning it out for demolition, but we definitely weren't planning on burning it that night. My sister-in-law and I watched as one single ember from the granary floated up high in the night air and drifted lazily over to the barn roof. The old dry shingle didn't put up much resistance, and soon the roof was ablaze. I was in charge of making sure the three toddlers on the scene stayed away from the fire, so I stood back and panicked as my husband and others ran in and out of the burning barn rescuing the few final items that they wanted to keep. The fire was pretty impressive, as you can see from the picture.

Seeing the old barn go was sad, even though it needed to happen. It was built in the early 1900s, and my husband played in and around it as a child. He probably sulked in it as a teen. My daughter and nephews found a huge number of little green plastic army guys in there during the cleanup process. Some were stuffed in knotholes and under stall partitions, and quite a few were still lined up near the hayloft rail, where my husband must have lined them up for battle 20 years ago.

Thanks to the fires, and a weekend of cutting trees, the home site looks a lot different now. I spent the weekend hauling tree limbs after my husband cut the trees down. I swear, trees grow extra limbs during the felling process. I hauled about 850 million tons of tree limbs and stacked them in artistic burn pile formations. By the end of the day I was exhausted and pissed at the trees of the world for having so damn many branches. One tree must have heard the curses I was muttering under my breath because it managed to smack me in the ass as I tossed it onto the burn pile. Then, as I kicked it and cursed at it, this time not under my breath, it landed a sucker punch on my head. Stupid tree. I'm lighting that burn pile on my own so I can have the last laugh. Bye-bye, ass-kicking tree!

I asked my husband what kind of tree he was cutting at one point. He said it was "just an old piss-elm." WTF? A piss-elm? Gee, I wonder why that variety never sold well at the local garden center. I think he makes this stuff up sometimes.

After all of the tree-hauling and barn-burning, I'm one tired girl. My muscles hurt and I have cuts all over my hands and I've broken almost all of my nails. I'm cool with the aches and pains and exhaustion, though, because it reminds me that we're so much closer to moving into our new house. We should be able to dig the basement soon, so long as we don't get a lot of rain. I think I'd haul whole trees off the land by myself if it meant we could move in faster. Just call me Tree-Ra!